Step-by-Step Guide on How to Start a Blog
You've probably heard this happily-ever-after story before – someone starts a blog and quits the dreaded eight-to-five job. That someone banks six (or seven) figures a year writing the blog while traveling around the world taking happy selfies. It could be the best life ever, but it almost sounds too good to be true, right?
This blogging stuff piqued your curiosity. You need to know the million-dollar secret on how to start a blog. Nope, most bloggers are not Ph.D. internet masterminds, nor did they hit the internet lottery. So, the real question is, can you start a blog and make money blogging too?
The short answer is – yes, you can. Anyone can start a blog. However, turning a blog from a hobby into a successful business requires result-driven online marketing strategies, tools, and top-quality content that are competitive in niche markets. You can create a profitable business once you understand the foundation of building a sustainable and scalable blog.
Let's discuss in detail precisely what you need to establish a solid foundation. First, you do not necessarily need to have a technical background to build a blog. Next, you should follow the key steps outlined below to properly set up and run your blog so you can grow and monetize it efficiently.
Our eight-step guide on how to start a blog goes beyond the essential domain and hosting setup. We dive deeper into the importance of choosing an adequate content management system. We will break down the process of how to set up your blog correctly with intuitive web design, online security, fast webpage loading speed, and optimal user experience.
Step #1: Find a Potential Niche
Follow Your Passion
First, sharing what you love is the initial critical step to maintaining long-term blogging success. This may sound obvious, but the passion and expertise that come through in your writing make your blog interesting, unique, and exclusive. It is one of the most significant factors that make your content stand out amongst competitors.
Do Not Think about What Makes Money for the Moment
"Follow the money" may be tempting, but it can also propel you in the wrong direction. Trending topics that attract the media's attention may look lucrative today, but it can fall off the chart tomorrow. Because chasing after the shiny object leads to a game of continually catching up with the latest and greatest, which doesn't always pan out in the long run. When choosing a niche for your blog, always go with what you love and know how to do, rather than follow what everyone else is doing. Being the subject-matter-expert allows you to grow steadily with a clear goal in place.
Ditch the "Fast-Fashion Mentality"
"Fast-fashion mentality" is the opposite of "follow your passion" when it comes to choosing topics and the right niche for your blog. The bottom line is – if you don't live, love, and breathe what you blog about, chances are that the topic of interest will not last for you, much like the trend of fast-fashion. When you feel like creating content is an obligation, the disinterest reflects in your output. Your content will appear disingenuine to your audience, and you may face burnout sooner than you think.
Genuine interest motivates content creators, and it is the best asset you can have to fuel your blog's long-term health. So, spend plenty of time to nail down the best subject matter that you can sustain.
Step #2: Register a Domain Name
Now that you have defined your blog's target niche, what are you going to call it?
Naming a blog is no small task. It can impact the success of online marketing efforts. The name is the first impression visitors encounter when they find it through search engines like Google. It should represent the core value of your blog's subject matter and embodies the essence of the content.
An impactful name is not only impressionable, but it also boosts blog performance and improves user experience. Having a relevant domain name helps visitors better identify and relate the blog to the content being promoted.
What is a Website Domain Name?
In short, a domain name is the website address that people type into the internet browser URL bar to visit your website. If the website is your home, then the domain name will the street address to locate your home. The majority of websites will start with www. which represents the World Wide Web, followed by the website name, and end with .com. In our case, our website domain is www.statusfocus.com.
When your internet browser searches for a domain name, the browser is locating the I.P. address where the domain name is hosted, which will take you to the website. Domain names are used to point to an I.P. (Internet Protocol) address associated with a specific website. Since an I.P. address is a string of numeric numbers, it is inconvenient for people to remember. So domain names are in place to refer to these I.P. addresses. Therefore, people can easily find the website they are looking for.
A domain name is arranged by hierarchy from right to left. It consists of the following components (right to left):
A top level domain name (.com, .net, .co) separated by a "." (period)
A mid-level domain name (usually the website's name)
A sub-domain prefix "www." which stands for the World Wide Web
What You Need To Know When Registering a Domain Name
Read the Fine Print
Sometimes, when the offer looks too good to be true, there may be fine print involved. Most people don't spend the time to read the entire "terms of use" or "refund policy" before making a purchase.
Do the math before signing up for an offer. What is the total cost of owning a domain after one year, three years, or five years? Does the price fit into your budget? Are there any additional costs involved? In case you are not happy with the service, can you cancel and get a refund? What if you want to transfer your domain to another service provider? Will you be charged to transfer out?
These are all questions you should investigate before locking yourself in with any service provider. If you have concerns about certain policies, it's best to discuss them with the customer service and make sure you understand what they entail before committing.
Know What is whois.icann.org
Whois.icann.org is an entity that keeps records of domain owners' identities and contact information. Owners provide this information to independent registrars (domain registration service providers such as Google Domain) who must earn the ICANN accreditation in order to provide such service.
3 Important Facts about WHOIS that Impact Your Domain
WHOIS requires domain owners to keep their information accurate and up to date with the registrars as part of their responsibilities of owning a domain. If false information is provided on purpose, the owners risk having their domains suspended
Domain information on WHOIS is considered public records. WHOIS allows anyone to search for a domain and gain access to the owner's contact information, including phone numbers, addresses, emails, and other contact information
WHOIS reveals the date you purchased a particular domain and the date it expires. This means if you accidentally forget to renew your domain registration, it will become available for anyone to purchase
A little creepy, right? So is there something you can do to protect your privacy? This leads us to the next point, and we will talk about how to protect personal information when you register a domain name.
How To Make Sensitive Information Private When Purchasing a Domain Name
Most legitimate domain and hosting providers give registrant the option to purchase additional domain privacy protection. This option allows you to hide personal or company information such as names, phone numbers, addresses, and emails.
When the privacy option is selected, your information will be hidden from WHOIS and other domain owner lookup websites.
Adding domain privacy should be easy to do with most registrars. Usually, you will be prompted before checkout to include domain privacy in your package when making the initial purchase. If your existing domain does not have privacy protection, you can always add it through your service provider.
Test Out the Quality of the Domain Provider's Customer Service
Make sure the registrar you are signing up with has a solid and responsive customer service team with a good reputation. Many of the domain and hosting service providers out there today will promise you 24/7 customer support. But how good is the 24/7 support? Consider testing out the customer service quality, experience, and speed by submitting a ticket before the purchase.
Having someone available around the clock is always a good sign. However, if the support team cannot efficiently resolve your problems, it defeats the purpose. There is a whole list of things that can potentially go wrong when you buy a domain name. For instance, do you know if you can access your domain right away? Can you get help pointing the domain's name server to the hosting provider?
A good registrar should answer all of your questions and provide prompt, adequate technical support to help you troubleshoot issues as they arise. So look into the complete list of services offered before making a final decision.
6 Tips on How to Come Up with a Domain Name
Tip #1: Go by the Books
Choose a domain name that represents what you are writing about precisely. For example, the successful food blog with seven million monthly visitors, Minimalist Baker, focuses on cooking with easy, clean, and minimal recipes.
Tip #2: Think Outside the Box
Be creative with the name, but still remind visitors of what your blog's primary goal is. The popular personal finance blog named Nerdwallet talks about everything from the best reward credit cards to how to get your first mortgage.
Tip #3: Keep Your Options Open
Have a few backup names available just in case someone else already snatched your brilliant idea. Don't forget, you can also change up the domain extensions from the commonly seen ".com" or ".net" to cool ones like ".ly, .space, .pro." Check with a domain and hosting provider such as Google Domains for availability. We will walk you through this process in the next section.
Tip #4: Use Word Generator Tools
If you feel stuck or need help wordsmithing a compelling name for your blog, try a business name generator like the three popular ones below. You can input phrases or keywords to create unique combinations of words. Make sure to do your due diligence first and avoid infringing on other brands' trademarks, so you can come up with a name that is unique to your blog's purpose.
Tip #5: Consider Your Brand Image
A brand is not just a name and a logo. Instead, it is a representation of your blog's core value and what it embodies.
Think about the following questions when defining your brand image:
What is your blog's persona, and what communication style will best connect your content with your readers? Scholarly, analytical, humorous, relatable, casual, etc.
What is the mission and vision of the blog? What message are you trying to convey?
What value and purpose do you want to bring forward to your audience?
Tip #6 Check for Trademarks
When you finalize the domain name and are ready to commit, first verify that you are not infringing on any brand's trademark to protect yourself from legal challenges in the future — research by going to the US Patent Office website.
Derisk early in the process by running through all your domain name ideas in the portal to make sure that the name is unique. The last thing you want is to receive a cease and desist order from a brand's attorney that your website violates US patents and trademark laws.

Navigate through the following on USPTO.gov:
From the main navigation, click on "Trademarks"
Go to "Search Trademarks" under "Application Process"
Click on the box "Search Our Trademark Database (TESS)"
Under "Select a Search Option," choose "Word and/or Design Mark Search (Free Form)"
Enter your domain name to check for possible existing registered trademark matches
Get Ready to Register a Domain Name and Start a Blog
Now you are finally ready to register your blog's domain name. We recommend Google Domain for its top-notch service, speed, security, and customer supports, but you can purchase through any domain and hosting provider. A domain name cost as low as $9 per year through Google.
Google Domain Registration Step-by-Step Guide
How to Start a Blog by Registering Your Domain Name
Register your domain name with Google Domains
Check the availability of the domain you wish to purchase
You will receive one of the two following results: domain is available for purchase, or domain has already been registered
Domain is available for purchase.
Domain has already been registered.
If the domain name you want is available, proceed to checkout.
Google Domain Free Privacy Protection
The added benefit of Google Domains is that privacy protection is free with your purchase. It guards your personal information against websites like WHOIS. This service costs around $24 annually with other domain registrars.
Congratulations!
You own the domain name of your new blog.
Next Steps After Domain Purchase
You are now ⅓ of the way to starting your blog. The next steps are critical to completing your goal.
The sections below (Steps #3, #4, and #5) will walk you through the process of choosing a hosting provider, setting up your domain with hosting, and selecting the right content management system (CMS).
Step #3: Choose a Managed Hosting Provider
Why Do You Need a Managed Web Hosting Provider?
One of the traditional ways to host a website in the early 1990s and 2000s was to purchase on-premise self-host servers and virtual machines in order to take in online traffic. However, the total cost of ownership to self-host, including the administration and maintenance costs, can get expensive over time. This makes self-hosting servers undesirable and impractical for websites.
A managed hosting provider eliminates the problems with maintaining servers, virtual machines, software updates and patches, and ensuring that the servers always have the bandwidth to take in online traffic for your website. For a flat monthly fee, all these headaches are taken care of for you. Plus, you can receive additional benefits and features such as an up-time guarantee and professional set-up or transfer service with a managed hosting provider.
WPEngine as the Top-Choice Managed Hosting Provider for WordPress
We highly recommend WPEngine if you are choosing WordPress as your Content Management System. (We will discuss Content Management System in Step #4.)
First, let's talk about why our website, StatusFocus, chose WPEngine as the managed hosting provider versus all the other options out there. Something to note, WPEngine does not provide domain registration, so the only downside is that we have to split the domain and hosting providers, which is only a minor inconvenience comparing to the vast advantages.
How to Start a Blog by Choosing the Right Managed Web Hosting Service
Starting a website can be very confusing and stressful. We totally get it because we've stumbled a few times when starting the blogging journey. Having tried several different hosting services in the past and learned our lessons, we have found the perfect managed hosting service for our business needs. Let's walk through the journey on how to choose the right managed hosting service.
What is a Managed Web Hosting Service?
Entrepreneurs and bloggers who do not want to spend time and effort maintaining a server can opt for managed hosting services. Basically, it takes the I.T. work off of your plate so you can focus on upscaling the website and creating content.
Different hosting providers offer different levels of services. Some provide full-service management from around-the-clock customer service to software upgrades. Some let you pick and choose the type of services you need based on a customizable plan. What level of managed hosting you need depends on how much work you want to do on your end in terms of up-keeping the technical parts of a website.
Of course, more managed service options often mean higher costs. However, if you compare the money spent to hire a full-time I.T. with what you pay for managed hosting, you may see substantial long-term savings.
4 Metrics for Choosing the Right Managed Web Hosting Service
1. Interface User-Friendliness
Look into the type of control panel the hosting provider uses. Make sure it is a well-known, universal control panel such as cPanel that is easy to learn, navigate, and provides sufficient customer support.
2. Overall Cost
The cost could be a significant concern when you are just starting up. Spend some time price-shopping hosting services and find one within your budget. Most hosting providers offer tiered plans suitable for websites at different stages.

Consider These:
Will the hosting service still be sufficient when your website traffic increases?
What exactly does the hosting service offer, and are those features helpful for your current and future website needs?
Are there custom solutions available for your website at different stages of growth?
3. Available Features and Growth Potentials
It is essential to research the full spectrum of services that the hosting provider offers. At different development phases, your service needs may change. Look into add-on features such as data backup, free CDN, and SSL security support. (We will talk about CDN and SSL in the next section.)

Consider These:
Does the hosting service offer SSL (Secure Sockets Layer)?
How often does the hosting service backup your website? Is there restore options available in case your website is deleted?
Is server-level protection available? What kind of security measurements does the hosting provider offer in terms of data-loss and spams?
Are you protected from hackers?
What is the uptime rate of the hosting provider? Is there technology to minimize server downtime?
Is the hosting service compatible with major CMS (Content Management System) such as WordPress?
Are transfer and set-up free if you are switching from another hosting service?
Will support be offered if you have questions about the installation or transfer process?
How many data centers do the hosting service own, and where are they located?
Are there caching services or tools available to improve website speed, and how much do they cost?
Does CDN (Content Delivery Network) service come with the hosting plan?
What technologies are available to support and improve website speed?
4. Quality of Technical Support
Think about what happens when your blog goes down. Is there someone you can talk to 24/7 for technical support questions? Many reliable hosting services out there offer an around-the-clock support system. It is imperative when you are new to blogging and need a little more hand-holding when it comes to technical issues.

Consider These:
Does the hosting service offer 24/7 around the clock customer support?
What levels of support does the hosting service provide?
How long is the average response time to turn-around support tickets?
Top 12 Reasons WPEngine is the Best Hosting Provider for WordPress
100% Focused on WordPress
WordPress seamlessly installs and automatically sets up on WPEngine. It is intuitive and user friendly for both beginners and advanced users alike.
Quality 24/7/365 Customer Support
We have tested WPEngine's customer service response rate at various times of the day, including midnight. It is always on-point, responsive, and consistent in the quality of service.
Automatic WordPress Core Updates
WPEngine tests and handles all WordPress updates automatically to ensure websites stay up-to-date.
Free CDN (Content Delivery Network)
WPEngine makes it easy to scale your blog with CDN (Content Delivery Network) —just activate it with a single click. CDN allows content to be stored and cached on local servers to speed up the delivery of the webpage to the visitor's browser. CDN guarantees the availability and loading speed of content to visitors in different geographic locations.
Free SSL (Secure Sockets Layer) Certificates
Keep your blog and online transactions safe with SSL (Secure Socket Layer). SSL safeguards internet connections to ensure data transactions between different networks are being handled securely.
Integrated Web Speed Performance Tools
Improve the loading speed of your blog with integrated performance tools in the user dashboard. In real-time, users can see the impact of website speed performance improvement.
Uptime Protection
WPengine ensures your blog is consistently up and running with clustered configurations in dedicated environments. It provides a fully managed content delivery network, as well as proactive, multi-layered security measures.
Automated Daily Backups
Automated daily website backup is another one of WPEngine's essential features. It gives users peace of mind and roll-back options in case website update issues occur.
Development, Staging, and Production Environments
Every WPEngine website comes with three environments – development, staging, and production. The system helps the user to set up an efficient development workflow quickly and makes web development-to-production seamless.
Managed Core Updates and Patches
Minor updates on WPEngine are automatically pushed through, while major updates are vetted thoroughly before the system recommends them. The setup allows users to have a certain degree of control and reduces the possibility of errors from back-end updates.
Threat Detection and Blocking
Website security is also a rising concern for bloggers and visitors alike. WPEngine will dynamically detect and block malicious behaviors with their proprietary security system to ensure your blog is protected from potential hacks.
Disaster Recovery
The extra layer of website backup through WPEngine's Disaster Recovery system gives users quick access to recovery assistance. In the unlikely event that your blog is compromised, you can bounce back quickly with the help of WPEngine's expert Disaster Recovery team.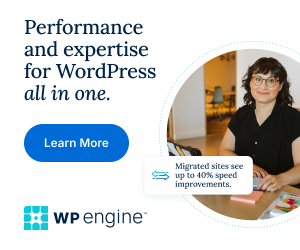 Step-by-Step Instructions on How to Set Up Hosting and Domain
How to Set Up Hosting and Domain
First, head over to WPEngine
We recommend starting with the basic hosting package, "Startup." WPEngine is currently running a promotion of $25/month with an annual plan.
Next, complete the checkout process to activate your hosting account.
Once your account has been created, you will need to point the domain you have purchased to WPEngine's hosting account.
Login to your WPEngine account and click on your domain name appearing under "Site Name."
Next, click on "Domains" in the left navigation under "Production."
Scroll down to the bottom of the page to find your CNAME and DNS records. Copy the CNAME record. You will then paste the CNAME record with your Domain Registrar.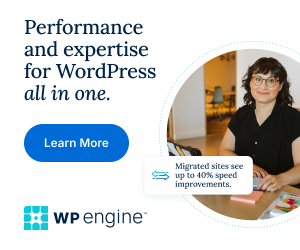 If you are using Google Domains, which we recommended above, follow these steps to set up the CNAME:
Sign in to Google Domains
Click the domain you want to update
Open the "Menu"
Click the DNS icon
Scroll to the "Custom Resource Records" section
You can update the data in two ways:
To edit the data, click "Edit"; this will make all the records in the set editable
To add data, click "Edit" and then the icon to add a resource record
Click "Save"
For more detailed instructions, you can visit WPEngine's support page.
CNAME Update
It can take up to 24 hours before the CNAME updates take place and your blogging website to go live.
Step #4: Pick a Content Management System
What is a Content Management System (CMS)?
A content management system is a software platform that allows you to easily publish and organize content for your website. Think about all the content and landing pages you need to create on a blog, a Content Management System or CMS will allow you to write and publish content, add images and videos on a single user-friendly interface. In addition, the CMS will give you the option to design and customize the look and feel of the blog and tailor the overall user experience of the blog for your specific needs.
The Content Management System (CMS) WordPress Works Seamlessly with WPEngine
WordPress is the most popular Open Source Content Management System or CMS. It is intuitive, easy to use, free to download, and powers more than half of the websites out there running on a CMS. It automatically sets up in WPEngine, which is the best hosting provider for WordPress, in our opinion. WordPress is ideal for beginners because it is a relatively simple and straightforward blogging platform. You can start a website quickly by creating navigation, adding pages, and filling them in with content that will show up on your blog in real-time.
Resources and support are also abundant for WordPress. There is a large community of contributors who develop plug-ins for the CMS. Today there are more than 45,000 plug-ins and counting. Most of them are free!
Tip: Beware of the difference between "WordPress.com" and "WordPress.org." When you Google "WordPress," the first organic listing is "WordPress.com," which is a hosting service provider (this is not a CMS.) The second organic listing, "WordPress.org," is where you download the free CMS.
WordPress.com is a hosting service provider (not the CMS WordPress)
WordPress.org is the free CMS to build blogs
Step-by-Step Guide on How to Set Up WordPress on WPEngine (with Screenshots)
WordPress automatically comes installed with WPEngine hosting service. Let's discuss how to access the administrative side of WordPress to help you install a template, set up navigation, and start publishing blog post content.
Accessing WordPress
Login to your WPEngine account
Select your blog's domain
Click on the triple-dot icon to the right of the screen
Click "WP Admin." This will open up a new tab on your browser to access your WordPress admin panel
Install a Blogging Template
Designing your blogging website from the ground up can be expensive and time-consuming. Luckily, plenty of modern, functional pre-built WordPress templates are available, allowing quick build-out of blog content and visuals. Pre-built templates save a significant amount of time and money on web development costs. Especially for non-technical beginners, purchasing a WordPress template may be the best path forward to get a jump start on your blog journey.
We use and recommend Divi by Elegant Themes as the top WordPress template solution. Our website StatusFocus.com is built with a Divi template. One of the best advantages of Divi is the intuitive drag-and-drop visual builder, where you can design responsive content for any device (including desktop, tablet, and mobile.) Visit Divi for more detail.
Go here to check out Divi by Elegant Themes' pre-built WordPress templates.
Step #5: Design for User Experience
Web Design is Critical for User Experience
When visitors land on your blog, you have about three seconds to capture their attention and convince your audience that they are in the right place.
For example, if visitors came through Google organic search, what is the first attention grabber they will see on your blog's landing page? Is there an intriguing blog hero image (the first main image on the landing page)? Do you have a captivating title that makes visitors stay on the page longer and continue reading?
Your blog's content's page layout, logic, and flow dictate whether the visitor's user experience is a positive or a negative one. Exceptional user experience comes from navigating a clear, purposeful, and engaging visitor journey.
Increase the Audience's Content Consumption
Your blog's engagement score goes up when the bounce rate goes down as visitors spend more time browsing content. Bounce rate, meaning when a visitor lands on a webpage then leaves without taking any action, directly attributes to your blog's ranking in organic search. So, the longer visitors stay on your website, and the more pages they consume, the more likely your blog will improve in both ranking and authority in the niche market being targeted. Make sure all hyperlinks and call-to-actions are legible to guide the user journey and browsing experience seamlessly.
Make it Easy to Browse the Navigation
Your blog's navigation is like the user manual that guides visitors through your website's flow of logic, and it critically influences the visitor journey. Place the most important categories on the navigation, followed by sub-categories or pages that are extensions of the main categories.
The navigation's logic should resemble a funnel – with the main idea on top, then branching off into supporting ideas. Remember, how visitors consume your content is driven by how you organize the content. The bottom line for building an effective navigation is to make it quick-and-easy for your audience to find the information they need.
Create a Seamless Landing Page Reading Experience from Top-to-Bottom and Left-to-Right
According to studies based on the heatmap of an effective landing page, people tend to spend more time looking at the top of a web page. Furthermore, readers consuming more content on the left side of a web page than on the right side. This content consumption pattern resembles an "F" shape.
A heatmap visualizes the data of visitors' interactions on a landing page through a color-coded system. The system uses darker shades of red to indicate more user interaction or "eyeball time" versus the lighter shades of yellow suggest less user interaction. So, consider organizing your landing page in a manner that will catch the most "eyeballs" – with the most important and attention-grabbing content towards the top of the page, flowing from left to right.
Make Content Easy-to-Skim and Consume
Make it easy for visitors to browse through your blog content. Some people prefer speed reading while quickly glancing through a page's main points, while others selectively browse sections pertaining to their interest. Then, you may have another group of readers looking for organized, well-researched, and elaborate content.
How do you satisfy diverse browsing habits and gain more control over the visitors' content consumption? Start by structuring content into consumable and skimmable bite sizes. You can maximize visitor time-on-site and engagement by catering to all types of content readers. Follow the tips below to take the lead in guiding readers' content consumption journey.
4 Best Practices to Create Skimmable Blog Content
1. Create Visual Separation
Apply H2 headings, bullet points, lists, and bold-face sub-headings to draw clear separation to different content sections.
2. Use Sub-Headings
Add sub-headings for paragraphs below the main H2 heading. This simple action helps both speed readers and researchers find what they need fast.
3. Choose Legible Colors and Fonts
Colors and fonts matter. Go with a simple, modern font that's legible against different background colors. When in doubt, black fonts on a white background or white fonts against dark-colored backgrounds are the standard, safe bets.
4. Follow Brand Color Themes
Make color selections based on your brand's color theme. Although there is no hard rule on your blog's best color palette, it is always a good practice to choose a central color theme for your brand guideline, then match your content's designs accordingly.
Harmonious color tones and esthetically appealing graphics are keys for making a landing page consumable and unique. Colors and graphic elements not only guide the visitors' eyes along with the web page, but they are also great section dividers for your content when strategically placed.
Why Starting with a Pre-built Blog Template is a Smart Option
When starting your blog, it may be tempting to turn that perfect design brewing in your mind into reality as quickly as possible. From a cost perspective, the "perfect" design may not be the most efficient way to get your blog off the ground and running right away.
We understand the urge to create your ideal blog because we've been there, done that, but ended up throwing money down the drain as we scraped two custom-coded websites. How? Because our direction continued to shift as we optimized our blog for the best user experience. Along the way, we realized that our initial design does not work out as "perfectly" and effectively as we imagined after all.
The hard lesson learned was to start simple and nimble while keeping your cost down. Focus more on building and optimizing quality blog content and start with an intuitive, functional, user-friendly pre-built template. The sooner you begin to monetize your blog, the more resources you will have to build your dream template down the line.
How Much Does a Website or Blog Template Cost?
While most decent WordPress templates fall into the range of 10 to 500 dollars, there are plenty of free ones out there to get you started. If you have the extra budget and want something more sophisticated than simple landing pages, Divi is your best bet. After going through a slew of pre-built templates with various vendors, we chose Divi by Elegant Themes because it met all of our criteria for a modern, intuitive, UI/UX friendly WordPress template. Most importantly, after-sale customer support is top-notch with a fast ticket turn-around time. Excellent customer support is vital when you need all the free help and resources you can get.
Top 5 Advantages of Divi by Elegant Themes Website Templates for Bloggers
1. Variety and Simplicity
There is a template for every type of blog. Divi offers more than 800 pre-built designs ready for one-click installation, perfect for both novice and advanced users. The best part is that no developer or knowledge of coding is required for implementation.
2. Intuitive and User-Friendly
With the stress-free and intuitive drag and drop function, you can add, delete, and move elements on the front end of your blog without the need to manipulate confusing back-end coding.
3. True Visual Editing
Divi's built-in visual control saves time by allowing you to design blog landing pages in real-time and instantly see the updates.
4. Easy Undo, Redo, & Revisions
Divi works like any modern software application. You can easily undo, redo, and travel through your entire editing history if you need to recall a step or correct a mistake while editing.
5. Responsive Elements
Divi's templates are both esthetically attractive and functional. Better yet, your blog is already mobile-friendly with Divi. The responsive elements allow your web pages to intuitively fit and automatically adjust on different devices, such as mobile phones, tablets, and computer screens of various sizes.
How to Start a Blog by Installing a Divi Template
The Divi theme template installation is a quick, one-click process (follow steps below). Fast live chat support is also readily available for any setup or post-launch questions you may have. Let's get started.
If you have decided on a Divi WordPress theme template, you can choose to purchase the lifetime license for $249 (best value comparing to the annual subscription). This one-time purchase to use Divi permits lifetime updates to your Divi themes, and allows you to use any template in the gallery.
How to Install Divi in WordPress
Install Divi in WordPress
After the purchase, you will create a Divi account and gain access to download the template files. Login to your account, then click on the button "Download the Divi Theme" and a file will be saved to your computer.
For further instruction, follow Divi's documentation guide.
Watch a Quick Video on How to Install Divi on WordPress
How to Upload Divi to WordPress
Upload Divi to WordPress
Once the Divi file has been downloaded, login to WordPress.
On the left navigation, go to "Appearance," click on "Themes"
Then click on the "Add New" button
Next, click on the "Upload Theme" button.
Click on "Choose File" to upload the Divi file you just downloaded. Final step – click on "Install Now."
Congratulations, you are now one more step closer to launching your new blog!
Step #6: Set Up WordPress
Now that Divi template is installed, let's set up your home page, navigation, and start publishing blog posts.
How to Start a Blog by Setting up a WordPress Home Page
The home page is a key landing page on your blog. It is your storefront, and it encompasses the spirit of your brand's mission, vision, and purpose. To build your home page, start by creating a blank page within WordPress.
Create a New Page in WordPress
Go to "Pages" and click on "Add New."
Give the page a title and a short description.
Next, click on the button "Use the Divi Builder." You will then have three options to choose from
Select "Choose a Premade Layout" and click on the button "Browse Layouts."
Choose your desired Divi theme from the "Premade Layouts" library.
Select the page "Home" in the layout pack, then click on "Use this Layout." This step will set up the home page from your Divi template.
Click the button "Build on the Front End" to start editing the text and visuals on the page.
You can easily make changes to the title, layout, modules, and images.
Once you are satisfied with the home page design, click on "Publish" on the bottom right of the screen to make your page live.
The final step, let's set the page you just published as your home page:
Navigate to "Settings" on the left side navigation
Go down to "Reading," then select "Home Page" from the drop-down and choose the page you designed
Don't forget to click "Save Changes"
Search Engine Visibility
Make sure to uncheck the box "Discourage search engines from indexing this site" from the option "Search Engine Visibility" because you want Google to index your blog so people can find it through organic search.
Detailed Instruction on How to Use The Divi Builder
Now that you have gone through the basics of creating your home page on Divi through WordPress, check out the Divi Builder Plugin Documentation on how to make visual edits through The Divi Builder tool.
How to Start a Blog by Creating a WordPress Navigation
Create a WordPress Navigation
To start creating your blog's navigation on WordPress, head to "Appearance," then go to "Menus" from the left side of your screen.
As you create pages and posts, you can drag and drop content to build out the navigation further. The left-aligned modules are your top-tier navigation, while the right-aligned modules contain the sub-navigation items.
Click "Save Menu" once you have completed the navigation.
How to Start a Blog by Creating WordPress Blog Posts
Create a WordPress Blog Post
Let's start publishing blog posts. Select the left menu item "Posts," then click "Add New."
Give your post a title, then start typing in the content box, and don't forget to add some compelling images. Tag your blog post to a category to organize and give a hierarchy to your content.
When the blog post is complete, hit the "Publish" button.
Learn how to increase your blog's organic traffic by making SEO (Search Engine Optimization) improvements to your content.
Step #7: Create Impactful Content
4 Criteria of Successful Blog Content
1. Focus Content on User Experience
Blog with your audience in mind. Make readability, user engagement, and content quality your top three priorities. Think from your target audience's perspective, who will be consuming the content, so that you can cater the persona of your blog to the most likely audience.
Consider These:
Depending on your niche, should you write in simple terminologies, or will your audience prefer thoroughly researched, scholarly articles?
How will the format of your content impact readability? Long blocks of text do not always work in favor of increasing user engagement rate
Try structuring your content in shorter paragraphs with large headings and plenty of white space.
How much and what types of visuals should you include to enhance the copywriting? Will adding more charts, infographics, photographs, or even videos help further engage and improve the readers' content consumption?
2. Create Memorable Content
Memorable content makes your blog uniquely different from the competition. Emphasize the strength in your content that makes you stand out and be impressionable to your audience.
Consider These:
Include personal experience in content writing if appropriate. When you relate to your audience through feelings and emotions, they can take away more than just words from your blog
Think about a recent website you visited or an influencer that you subscribe to who made an impression on you – what made them memorable? Is it their attention-grabbing call-to-action or their unique personalities? How can you uncover your uniqueness through content creation?
3. Create Authoritative and Trustworthy Expert Content
Creating authoritative expert content means taking the responsibility to verify and fact-check the information you put out. Having accurate facts and figures help to establish trust in your viewership. We all know how easily disinformation can spread online, and not everything on the internet is factually correct. As content writers, we must do our due diligence and verify the credibility of our content to the best of our abilities before putting it out on the internet.
Consider These:
If your content is primarily based on statistics, do you regularly check the accuracy and currency of the data?
When referencing current events and research studies, are you pulling from a creditable source? Do you check multiple credible sources before concluding?
Can you identify other reliable research from industry experts to back up your content if needed?
4. Make Content Shareable on Social Media
Social media is a great way to spread the word about your blog quickly. Make your content one-click sharable through popular social media networks such as Facebook, Twitter, Instagram, and LinkedIn.
Consider These:
There are free tools out there making content sharing easy. For example, AddThis plug-in toggles social network buttons on your blog's landing pages so visitors can share your blog posts from any device
If you are posting on multiple social networks, consider using a social media tool such as Hootsuite to help you organize, track, and schedule posts on different networks simultaneously, all within one platform
Step #8: Protect Your Visitors
Properly securing your blog protects both your visitors and the website from unauthorized access, data breach, and hacking threat. It is crucial to provide a secure browsing experience for your audience.
There is a simple action you can take to prevent your blog from data breaches – making sure your website has a proper SSL (Secure Sockets Layer) certificate. SSL establishes an encrypted connection between the web server and browser, ensuring the safety and privacy of data exchanged within the encryption.
If you are on WPEgine, your blog automatically receives a free SSL Certificate with a one-click installation. Remember, Google penalizes websites without SSL, and you will likely fall off the search results for popular search terms your blog is targeting. How to check if your blog has an SSL certificate? Look for the "HTTPS" in front of your website's URL. Websites without an SSL certificate will show up as "HTTP."
How to Add SSL Certificate to Your Blog through WPEngine
Follow the steps below to add the free SSL certificate to your blog through WPEngine. It only takes a few seconds.
Add an SSL Certificate in WPEngine
First, select your domain name
Click on "SSL" on the left menu
Finally, click "Add Certificates" to enable the SSL certificate on your domain
You are done!
Bottom Line Summary on How to Start a Blog
Starting a blog may look like a huge endeavor, but taking action is the first major step you can make to having an online presence. Do your necessary due diligence and hold yourself accountable to a list of short-term and long-term goals that will help you stay organized in the process. Follow our goal milestones below in a week-by-week prognosis.
Short-Term Goals on How to Start a Blog in 8 Weeks
Week 1 – Identify your niche based on your strength and passion
Week 2 – Research and confirm the name of your blog
Week 3 – Register your blog's domain name (Google Domains)
Week 4 – Subscribe to a hosting service (WPEngine) and install a CMS (WordPress)
Week 5 – Choose a blog template (Divi)
Week 6 – Set up your blog template in a CMS (WordPress)
Week 7 – Start planning a list of content to write and establish a cadence for routine upload
Week 8 – Explore a list of supplemental tools you will need to optimize your blog
Long-Term Goals to Improving Your Blog's Search Visibility
Learn how to grow your email subscribers
Learn how to establish a social media presence – Facebook, Twitter, LinkedIn, Instagram
Frequently Asked Questions
How Do You Start a Blog for Free?
You can start a blog for a low cost, estimated around $100 per year, for the basic services. We recommend owning your domain name and using a managed hosting service to monetize your blog and own your digital asset, so you can scale your online presence without limitation. Free blogging services usually do not grant you ownership of your online asset.
Is It Worth Starting a Blog in 2021?
Absolutely, yes. A blog is the best platform to get your content out to the public and monetize your work. It allows you to grow an online presence while earning a relatively passive income.
How Much Does It Cost to Start a Blog?
In 2021, the average cost to start a blog will range from $309 to $366. This estimated cost includes $9 to $16 per year for owning a domain name and $300 to $350 per year for website hosting service.